Death trip: Snow camping for three nights in Yosemite
---
The "death trip" is a tradition started by a group of crazy people who, every year, go out camping in some desolate spot which puts life and limb to risk. This was the first time my friend Jason and I were joining this group (which totalled to twelve) and our destination was in Yosemite National Park, which, at the time of departure, was covered in two feet of snow!
We left Friday afternoon and arrived there just as it was getting dark. We hiked about three miles to the Bridalveil Campground under a beautiful full moon which eliminated the need for any flashlights. We had plenty of opportunities to stop and admire the amazing views and the breathtaking freshness of the snow, since our backpacks were killing us! We finally stumbled through the snow, set up our tent and joined the fire that was already going.
Our original plan was to pack our tents up in the morning and go out to Glacier Point or Dewey Point and camp out there, but after that first hike, and after staying up way too late

sledding under a full moon, inertia took over and we decided stay at the campground (which was empty, except for us). After sleeping in the next day, Jason and I woke up, hiked around a bit using snowshoes, and had our first "death" experience: We wanted to cross a creek to hike on the other side, i.e., to go where no one else had gone before. Going was okay. On the way back we had to cross it on a log which was covered by a thin wall of snow two feet high and one foot across---if it collapsed, we'd have gone in the creek. I almost lost it (as I got on all fours and scrambled across), but we survived that experience! We then cut down a bunch of dead trees and had a

warm fire going.
On the third day, we decided to stop being lazy, and headed out to Dewey Point which was a good twelve mile hike round trip via the old Badger Pass trail. The morning started off sunny (as it did every morning) and I could just hike in my thermals, but by the afternoon it was snowing heavily. The hike was pretty strenuous, and our second "death" experience was when we climbed to the edge of this rock that is Dewey Point with about a foot of snow on either side of us. We were unsure whether we were standing on rock or snow in the first place, and even if we were on firm ground, one slip would've meant plummeting down hundreds of feet. Definitely not recommended if you're afraid of heights. The

view of El Capitan and the Cathedral Rocks across the valley were spectacular! Even though I have been to Yosemite several times, I had never made this hike and doing so in the winter was definitely a special experience. We ran out of water on top there and had to melt snow using a portable stove we had. We came back as the storm was getting more intense and we stayed up late in front of the fire. (In retrospect, this was a bad idea because the falling snow just melted on us and made our clothes wet.)
The evening before we left, we bought a whole bunch of camping gear (see checklist): thermal underwear, gloves/mittens, Columbia hiking boots (which were excellent), a Mountain Gear four season tent and zero degree sleeping bag, and miscellaneous camping gear (stove, first aid, etc.). which served us well. Cold wasn't that much of an issue since we were well prepared, though I will say that you want a Thermarest that covers your entire body, not just the upper portion. In terms of an outfit, I find thermal underwear with snow pants and winter jacket when you're active (you can take off the jacket if you get too hot), and another layer (such as a sweat shirt) for the top when you're still, works pretty well. A good pair of boots not only keeps you warm, but also keeps you from getting blisters when used with a pair of silk socks. And finally, renting snow shoes and cross-country skis is better than carrying them out.
Finally, on the last night, the storm abated, and we woke up to

the magnificent sight of a snow blanket all around,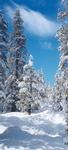 with the sun shining brightly. We had carry our wet stuff back through an additional foot of pure virgin snow on first part of the trail (and the rest of it, though partially groomed, was almost completely uphill)! The first thing we did after we made it was to have this huge chili burger at the Badger Pass Ski Area. As we were driving out, we ran into a huge storm, thankful we didn't have to deal with it!
An amazing, intense, agonising, exhausting, and existential experience. It really was great being away from people except for our group and besides helping us get away from everything, it also gives me a new found appreciation for what I do have.

Myself and Jason at Dewey Point; I'm unfortunately limited to a small number of pictures since the camera lens fogged over due to the moisture, but here's one of

the entire Motley Crew, courtesy of Tad Mondale!
---
Pseudointellectual ramblings || Ram Samudrala || me@ram.org || February 18-21, 2000
---