Lava Beds National Monument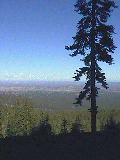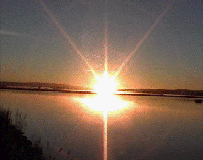 Sunrise at Lava Beds animation
---
We headed out to Lava Beds National Monument on a Friday afternoon and ran into some serious traffic getting out of the bay area. After that, it was smooth sailing. It was the night before a full moon and we got to see Mt. Shasta in beautiful moonlight as we drove.
We stopped at the

Golden Eagle Motel at the corner of First and Main in Dorris, a small town (the hotel was remarkably nice and cheap, and best of all, it didn't have room 13). The next morning, we headed off to the Lava Beds. Lava Beds is primarily a place where you see and do things, as opposed to simply hike.
Our first stop was

Captain Jack's Stronghold. Captain Jack, or more accurately, Kientpoos, was the leader of the Modoc Indians who rebelled against the White settlers who wanted them moved to a reservation. For a period of five months, a band of less than 60 Modocs males and their families took refuge in strange clefts and crevices, and behind jagged boulders created by lava flows and managed to hold off an army that was 20 times their strength. As the trail guide goes: "walk this trail and you will see how it was possible, but walk it with reverence. The cultural identity of an entire people was lost here.... so settlers could graze a few cows."
We then stopped off the Vistor Center to get maps and headed back to Schochin Butte, which presented some excellent views, including
one of Mt. Shasta in the distance. We met a cool forest ranger in the Fire Lookout as we climbed up the 0.7 miles trail to reach an altitude of 5253 feet. The weather was beautiful and the views were extremely clear, marred only on one side by

an agricultural burn .
After waking up a rattlesnake and

admiring some wildlife , we then stopped at

Mammoth Crater and drove off from the park, south, to

Glass Mountain (along USFS Route 97). Glass Mountain is a mountain that is made up of black Obsidian rock presumably created by the distinctive cooling of molten lava (the quartz sand or silicon dioxide component) mixed with some oxide (for Window glass, it's soda (sodium oxide) and lime (calcium oxide)). We cut our feet on the sharp glass as we overlooked the trail and climbed over the glass rocks. The landscape was quite unearthly.
We then headed back to probably the most famous attraction in Lava Beds:
the caves (tubes) created by lava flow. We walked along the Cave Loop Road stopping to explore cave after cave, as

flocks of birds above us headed south for winter (order in chaos). After we saw a few, we had gotten tired of it: basically

you climb into this hole,

walk around for a bit, and

climb out. It's fun, especially in certain caves like the ice caves, but it gets tiring real soon.
We drove over to Klamath Falls for dinner at this excellent Mongolian Barbecue restaurant (where the chefs and waitresses were amazed at the amount of hot food I could eat) and went back to Dorris for the night.
We woke up early the next day to catch the sunrise, which was an amazing experience. Driving along

Tule Lake was

eerie because of the fog and I unfortunately and sadly managed to

kill a couple of birds along the way that were flying around on the road. The

sun rose to a

full moon and the ambient sounds of birds waking up and chirping and cows mooing in the distance (check out the the GIF-based animation of the sunrise). The views were crisp and sharp and I got some amazing footage of the sun rise (which comes up really fast). We then headed back to Dorris for an excellent breakfast at this really cool place with an Australian waitress (!) and started making our way home. This time, we drove through the Trinity and Whiskeytown Units of the Whiskeytown-Shasta-Trinity National Recreation Area, stopping off at Trinity and Whiskeytown lakes (and doing a fair bit of off-roading and getting some beautiful views of Trinity Lake) before reaching home.

Welcome to our cave...
---
Pseudointellectual ramblings || Ram Samudrala || me@ram.org || September 24-26, 1999
---