Thailand revisited (#6 and #7)
---
Thailand revisited (#6)
My sixth trip to Thailand started off with the right atmosphere of adventure: there was a lot of turbulence along the way and I was listening to a Judge Jules mix. The turbulence matched the beat of the music. This was a good sign, because one of the things I was really interested in doing besides science was dancing a lot to good electronic music. Tthe cool people I travelled with included Ekachai, Jason, and Hong (who research with me and whose pictures I've used here, as indicated so by the names of the JPEG files), and Terry, Mali, and Phi.
My primary reason for going to Thailand this time was to give 3-4 talks as part of the Biothailand 2003 conference, and also to meet with my various collaborators (since sometimes it's a lot easier to talk in person and get things done quickly rather than go back and forth over e-mail). The conferences included a sessions on technology for the future, biodiversity and bioactive compounds, rice biotechnology, and medicinal mushrooms. This occured during the period of July 14-24 in Pattaya and Bangkok. The talks went well, and we had a great time in Pattaya (especially once I had finished giving my talks). We stayed at the Royal Cliff Beach House which is a great hotel (get rooms on the 9th floor with views of the ocean) but somewhat isolated from Pattaya proper.
Walking Street on Pattaya is where the action is (in more ways than one, though we were only interested in good clean fun). My musical adventures included singing karaoke on two nights at the hotel (singing Hotel California and playing Jethro Tull's Locomotive Breath on a guitar with a bad E string) and dancing at least two clubs where the DJs were playing great trance/house music. In particular, I heard a techno mix of Smoke on the Water by Deep Purple that I had never heard before. I later heard this version at another club in Patpong in Bangok. Another fun thing we did during the last day of the conference was go to this amusement park called "funny land" which had a tall Space Needle-like structure with a rotating restaurant at the top from which we witnessed a great sunset.
After our return from Pattaya, we came back to Bangkok for more talks, including a visit to the Rice Gene Discovery Unit at Kasetsart University, and celebrated the end of them by going to Palm Springs in Patchachun (a great club; we went there four times total during this trip and I sang two songs live on stage including George Michael's Careless Whispers and China Dolls' Oh Oh Oh). After the work was finally done, Jason and Ekachai bid us goodbye.
At this point, Hong, and his wife, Terry, were the only ones still with me and my partner-in-crime, Mali, who is from Thailand. We then headed out to Bangsean Beach south of Bangok where we stayed for three nights. Here we danced at the Galaxy Disco which was a lot of fun. Since I was the only guy dancing for a while, somebody gave me a drink (and I only drank sips of it) which was laced with something or the other because I felt really terrible.
On our last day in Bangsaen, we went to Koh Si Chang where we saw some temples and decent views (where Mali got into an argument a monkey at a temple and lost). In general, the coastal area near to Bangkok is highly polluted and dirty. Down south, it's a lot better but it's not clear how long it'll stay that way.
We then came back to Bangkok and went sight seeing to Wat Phra Kaev and the Grand Palace during the day. For the night, we went to Palm Springs and the Hard Rock Cafe. Hong and Terry then bid goodbye to us.
Mali and I then went to visit our family in Loei which is a very serene place with a lot of rice fields and cows.
After a bit of quite time, we came back to Bangkok for about fifteen days and continued our adventuring, including going to a Midnight Festival at the Emporium, one of the popular shopping venues in Bangkok. The dance places we checked out included Ministry of Sound on Sukhumvit Soi 11, Bed Supper Club, Narcissus, as well as a lot of the bars on Soi Nana, Soi Cowboy, Soi 3 and Soi 7, off of Sukhumvit (purely for the music; they event let us dance up on their stages).
The Thai-style clubs are cool in that there's usually a live act that's playing dance music. This is good for a while but it gets kinds of stale since they play the same music again and again.
There are a few "classy" western-style clubs in Thailand including Q-Bar, Bed Supper Club, and Narcissus. The only real good thing about these places is that they are cheap in terms of American dollars (going to a similar club in San Francisco or Seattle would cost a lot more). But they are kind of boring, since they resemble what I'm used to, and don't seem to have the essence of Thailand. It's easy to find equivalent or better music in a club that caters solely or mostly to Thais, and they're a lot more fun. These clubs also have a limited dress code which I think is stupid (Thailand is about shorts and sandals). The one exception is the Ministry of Sound, but this is a very unpretentious place with a great dance floor and is one of the best clubs I've ever been to.
Besides dancing, we sang a lot at the karaoke clubs as well as some stuff on stage whenever someone invited me to sing.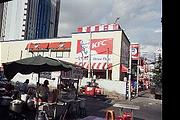 Food is another reason I was looking forward to Bangok. Overall, the street food is the best tasting (I have no idea how the KFC above can do business given the great street food right next to it, which makes for a remarkable contrast). We went to fancy restaurants once in a while including the Nipa Thai Restaurant in the Landmark Hotel which is decent, Landmark Piano Park on the 31st floor of the Landmark with great views of Bangok (though the bar was kind of slow), and the Sawasdee Thai Restaurant in Le Royal Meridian which sucked big time (the food was okay, but the drinks were poor and the service terrible).
The poverty in Thailand is very distressing. There is a stark contrast between the rich and the poor that at times made me want to cry. For example, to make a few dollars each day, people parade elephants around the street where they are objectified for people's amusement. Elephants belong in jungles, not on crowded streets. Similarly, there were a lot of children who seemed pretty bright and who were even encouraged by their parents to not go to school but just beg.
During a couple of days, Mali pretented she wasn't from Thailand and didn't know the language. we went out with random people that we met and had a grand time. Not a single bad thing was said about us. I met yet another guy who had the same birthday as I did (making this the tenth person in my life who has had the same birthday as me).
On our last weekend there, we went back to Ministry of Sound where we were having a grand time when the cops came in and picked about 20 girls and 5 boys "randomly" for drug testing. I made the mistake of following Mali to the drug testing area and they wanted to test me too. I refused and they didn't press it too much (the cops are very nice, but the security guy for the club was not). I refused on the basis of principle, since I strongly believe in due process (for anything in life), and didn't take the test after I explained to them that my reason for being in Thailand was to work with their Bioinformatics programs. It was an amusing experience, since Mali pretends she can't speak Thai and they tried really hard to speak English with her.
We also went back to Khao San Road for the first time since my first visit to Thailand and I reminisced about us playing the guitar that first night we were there. It was the only place that had any life after 2pm (except for the karaoke clubs).
On that note, people are trying to change things in Thailand to dictate some kind of a top-down kind of "social order". I doubt it'll work. Rather than address the root cause of perceived problems, they are attempting to change people's behaviour. The problem with drugs in Thailand is not from the people who dance at places like the Ministry of Sound (whose admission price is more than what most Thais make in a day). It's in places where people are so poor that they will take any means of escape.
In terms of other entertainment, we saw a bunch of movies including Femme Fatale, Medallion, Pirates of the Caribbean, Terminator 3: Rise of the Machines, Tomb Raider 2, and Identity.
The weather in general was very kind though on some days it rained a huge amount. During a couple of days just before the day we left, it rained so much that the streets had completely flooded. It was like a swimming pool outside. But we risked/braved it to get some food and then had the fortune of being able to make it back to our hotel even though there was a foot of water on the street where our hotel was. On the way back, we saw a guy washing his motorcycle using the water from the rain--take about seizing opportunities!
In this way, Thailand still retains its charm. We saw: a monk using a cellphone with a very puzzled look on his face (as if he was saying "are you there, god?"); a guy taking a nap in a hammock on the back of a moving truck; a dog mimicing a human begging in front of a cup; sitting on a rickety chair and eating street food or drinking really cheap whiskey laced with aphrodisiacs for a dime a shot while dressed up (one of the rare times I wore a jacket); and other funny sights which would be very incongruous in places like America. The quirkily unexpected and the stark contrasts is what fascinates me about the dynamic societies like Thailand. I can't wait to go back again in a couple of months.
---
Thailand revisisted (#7)
---
My seventh visit to Thailand (less than a month after the trip above) consisted of a few meetings and dealing with some personal issues. We went out dancing and hung out at this club called Blue Wave on Sukhumvit which was a fun place. Saw 2 Fast 2 Furious.
---
Pseudointellectual ramblings || Ram Samudrala || me@ram.org || July 14-August 19, 2003; September 10-23, 2003
---